So then, I've been feeling all Travellery since visiting TravCon and my attention has flitted butterfly-like back to some Traveller CGI. The world and his cousin appears to be making spaceships these days so I thought I'd have a crack at one of the alien races instead - if only because my skillset of late has reached a stage where I might be able to pull it off to a more satisfying degree
So then, the first brick wall I hit is the usual one: No two versions of Traveller agree on the K'Kree's appearence. In fact, no two illustrations seem to show them in quite the same way.
In the original Classic book, they appear to be part bovine, part grey alien with eyes at the front and a snout that tapers conically to a small mouth.
Then in the otherwise excellent GURPS book they are definately more bovine/equine with eyes at the side and a broad, flat snout. For what it's worth I absolutely adore GMG's more bovine take on the head but I get the feeling that that's not really how they were meant to be.
So I'm trying to do a sort of mid-way interpretation. So far I have a block mesh that gives the basic volumes but I'm not happy with it so I'm after a fresh pair of eyes to tell me what's wrong with it.
So far, I believe that the eyes are too large and that the snout isn't quite the right shape.
the head thus far:

Some selected ref images: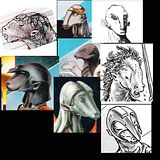 Crow