A good point, actually. In most illustrations, the front legs always look a bit feeble, but I think bulking the upper part at least, will help.
Anyways, here's todays scribblings:
Lowered the upper ribcage and moved it forward a bit.
Moved the Forelegs forward a bit.
Bulked out the hind legs and the belly.
Reshaped the body a little.
Now it looks like this: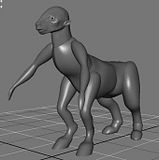 I'll try bulking up the forelegs later. I think that regardless of the logic behind it, they shouldn't really be as bulky as the hind legs. All of the full-body K'kree ilustrations I can find either show or suggest bulkier hind legs and as broken as that might be, if I have the forelegs as big as, or bigger than the hind legs, then it strays too far from cononicity and ceases to be K'kree, in my mind, anyway.
Crow